Online check of a link or file with all antiviruses - Virustotal
11.12.18
IT / Safety

2424
If there are doubts about the safety of the visited resource on the network, you can always use online virus scanners. The advantage of such services is that they allow you to scan an object with several antiviruses at once in a short time. This allows you to ensure that the object is safe.
The Virustotal online scanner is quite popular - it includes many antiviruses, about 60 pieces. For Russian users, the service is available at virustotal.com/ru .

It is possible to upload a small file from a computer (up to 128 MB) for verification, check the site or any of its links, as well as find analyzes of other files. Of particular interest is checking a link for viruses by a URL, it can tell if a site or a specific link is safe, as well as check a file by a link.
If the link was checked, a window with a message about it will be shown. You can repeat the check or view previous scan results. The detection rate is of particular importance - it signals the number of threats found.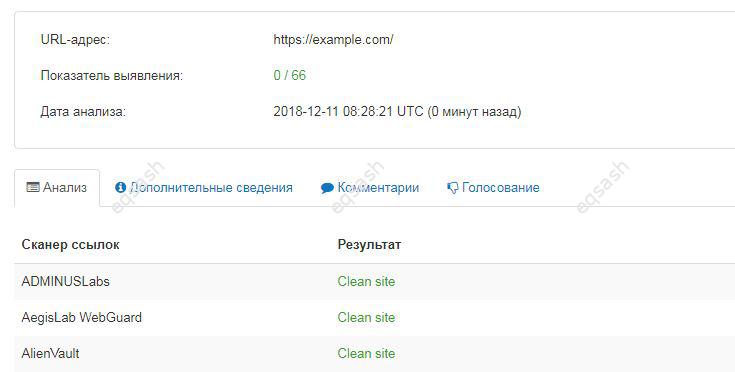 On the results page, you can vote for a file, leave a comment, and view extended information about a file or link. If you specify a link to a file when checking, then after analyzing the link, you will be prompted to go to the analysis of the uploaded file . This is the same as downloading a file from your device.
Such a online virus scanner can help out in different situations when there is no installed antivirus at hand or you need to check with different antiviruses in a short time. However, there are false alarms of some antiviruses , so even with so many antiviruses, it is not always possible to be sure that a file or link is safe.
Latest articles
Popular sections
Eqsash (Tools)
Amessage (Communication)
Share this
Subscribe to
YouTube
Books