How to connect comments to the site for free - which ones to choose
19.11.18
IT / Misc

2526
Comments on the site are a very important tool for communication, feedback with visitors, for generating new content , etc. Therefore, many site owners try to include comments on their site almost immediately after its launch. Comments are useful for many reasons, but it is important to set them correctly on the site.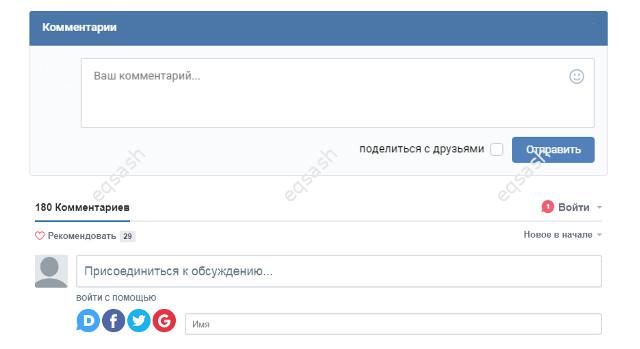 Since there are many options for installing comments on the site, first you need to answer the question - which comments to choose . The comment system on the site should meet current needs and include the necessary tools to manage all added comments.
Which comments to choose
Comments can be installed for free and for free. Let's briefly consider the main approaches to choosing a system of comments on the site:
custom comment system - flexible, convenient and unique. It can be deployed based on the built-in CMS functionality or using a module for it. Important advantages - all comments are stored on their site , there is no need for periodic payments, great involvement of visitors if configured correctly (authorization and registration in the background, the user adds data about himself if necessary);
comments from social networks (vk, facebook, etc.) is a good option, but not all users can have an account in the selected social network and not everyone likes to show it like that way your profile is there. Also not very good for indexing and managing comments, you need to try to manage all the data on your side - especially important for serious projects. In addition to problems with indexing, search engines may attribute comments to the profile on the social network, and not to your site;
comments from special commenting services (Disqus, Cackle, HyperComments, etc.) - although they are popular, this option is not the best. Usually, all data is transferred to a third-party service, which at any time may stop working, become paid, or other troubles may arise.
In addition, unnecessary embeddings on the site are undesirable - impact on security, increase in loading time, etc. Such implementations do not look very natural, in contrast to the first two options. There may be problems with indexing comments , or comments may be flagged by search engines and services as belonging to a third-party service.
How to include comments on the site
When the system of comments for the site is selected, it remains only to connect it to the site. In option 1, the connection is performed automatically, and if third-party services are used (option 2 or 3), you just need to go to the website of the comment provider, configure the widget and copy the embed code to your site. Then place the received code on the necessary pages of the site. It can be either free or paid - it all depends on the terms of service. This completes adding comments to the site .
Thus, the use of third-party commenting systems is undesirable, the situation is slightly better with comments from social networks. The best option is to use your unique designs, to make comments on the site as user-friendly as possible. You can order the development of such a system by leaving a request.
Latest articles
Popular sections
Eqsash (Инструменты)
Amessage (Communication)
Share this
Subscribe to
YouTube