How to register a domain correctly and in which zone - com, ru, net, org and others
20.09.18
IT / Domains

3588
To host a website on the Internet, you need to register a domain. Domain is the address at which the site will be opened when typing the address in the address bar of the browser. The domain can be registered in different zones. To put it simply, a zone characterizes which global theme the resource belongs to.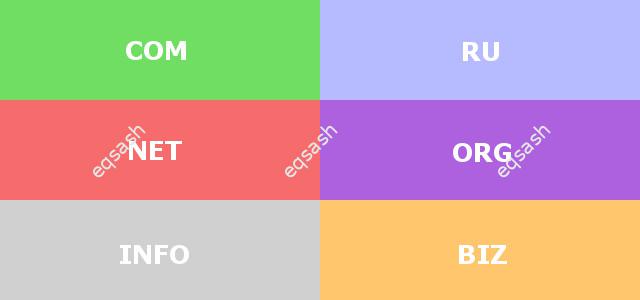 Domains cannot be registered directly without intermediaries, they can only be registered using domain registrars. Domain Registrars are organizations that are authorized to conduct these activities. It should be said that there are different types of resellers: accredited registrars and resellers . It is best to register a domain with real data and only with large registrars. In Russia, there are several official accredited domain registrars, of which the most popular are:
When selected domain name and the registrar, you should go to its website and first create an account there - an account that will be used to manage the domain.
In which zone to register the domain ? If you have a large company, then you can immediately register in all popular zones:
com,
ru,
net,
org,
info,
biz,
рф, etc.
Is it worth registering a domain in the Russian zone ? This is not the best choice, since Russian letters do not always look good, and there may be problems or inconveniences for the site developer in the program code. For beginners, it is best to opt for the com or ru zones.
Com is an international zone. Previously, it was believed that this is an abbreviation for the word commerce - commerce, now it is believed that this abbreviation is from the word common - general, and another zone is responsible for commerce - biz . Com is the most popular zone, all the largest companies and organizations, as well as popular services and resources, have a website in this zone: microsoft.com, vk.com, instagram.com, apple. com etc.
Ru is a national zone. It is intended for sites that do not require international representation, and is very popular in Russia. As a rule, projects begin to be placed in this zone, and after they become popular, they are transferred, if necessary, to the com zone.
Which zone should I choose, com or ru ? Each zone has its own advantages and disadvantages, it's up to the end user to decide.
The com zone has advantages , here are some:
it is not required to indicate passport data during registration and upload scans of documents to confirm them (some are very frightened by this procedure, especially when at the registration stage some registrars display a message that the site owner is responsible for all site content and insurance is offered);
easy and fast domain transfer to another person;
international representation, looks more solid than national domains;
if necessary, in the future it will not be necessary to move the site from one zone to another;
the ability to renew your domain for several years in advance and other benefits.
Among the shortcomings of the com zone are:
more expensive domain registration and renewal costs;
the easier way to transfer the domain makes it easier to steal the domain;
display of personal data of the person to which the domain is registered (registrars offer data hiding for a fee) and other disadvantages.
Thus, you can register the domain correctly by following a simple instruction. It is better to register immediately for real data and only with an accredited registrar.
Latest articles
Popular sections
Eqsash (Tools)
Amessage (Communication)
Share this
Subscribe to
YouTube
Books