Module
Modules are managed by the "Module" entity. Functionality available enable, disable and remove modules.
As you can see, the following information and controls are available on the main module management page (/admin/module):

Remove modules - page with modules available for removal;
Enabled - control enabling and disabling, to enable the module, check the box and save the changes;
Name - module name;
Version - module version;
Description - contains a description of the module;
Dependencies - specifies module dependencies on other modules.
If you need to remove a module, you need to turn it off and go to the module removal page, where you just need to check the boxes for the modules you need and press the confirmation button - after which you can delete the module from the folder. The delete page is shown below (/admin/module/delete):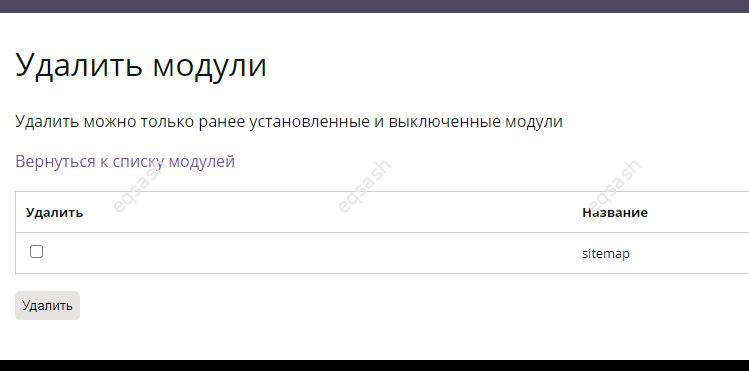 During the activation and deactivation of modules, various necessary actions can be performed, for this they must be described in the service file service:
install - actions performed during installation (for example, creating database tables);
uninstall - actions performed during uninstallation (for example, deleting database tables);
enable - actions performed during enable;
disable - actions performed during shutdown.
Latest articles
Popular sections
Eqsash (Инструменты)
Amessage (Communication)
Share this
Subscribe to
YouTube