Find out the data of the owner of a site or domain, what is WHOIS - decryption of service values
07.10.18
IT / Domains

13079
Sometimes you may need to find out who owns the site or the domain on which it is located. This information may differ because the domain can be registered for one person or company, but in fact another person can use the site.
To find out the data of the domain owner , you can first go to this domain address and look for information on the site that opens. But this method is not always effective, so you should use special services that will show information about the domain owner. These services are called WHOIS, which literally means "who it is."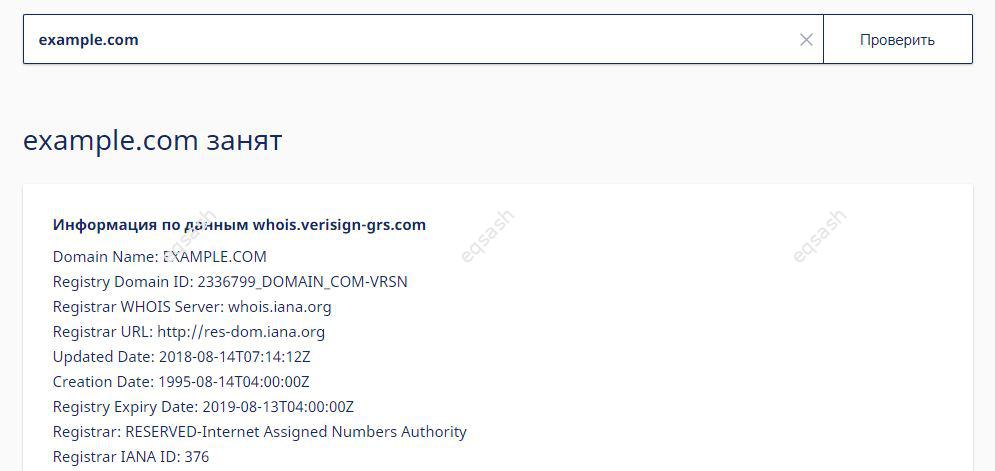 What is WHOIS ? WHOIS is often understood as a site that displays information about a domain. But in fact, WHOIS is an application layer network protocol based on the TCP protocol, the main use of which is to obtain registration data about the owners of domain names, IP addresses and autonomous systems from public databases. Initially, WHOIS was used only by administrators from the console, but today, for the convenience of ordinary users, various sites provide access to WHOIS in a clear interface.
However, for some domain zones or in some situations, information in WHOIS may be hidden or replaced with registrar data. This is especially true for domains in the zone .ru and .рф - according to the law on personal data of the Russian Federation, registrars are obliged to hide the owner's data. For domains in the .com zone, the hide data from the registrar service may be used, the domain owner will have to pay for it, or in some cases it may be provided free of charge for a certain period. In such cases, you should contact the specified data of the registrar to contact the owner of the domain.
Today there are many WHOIS services, sometimes it is not clear which WHOIS service to use . In addition, some services provide incomplete information. Usually, the first service from the search results is used, but this does not guarantee a good result. Examples of WHOIS services:
nic.ru/whois - convenient in that it shows extended information that is not always displayed in other services;
reg.ru/whois is also a good option;
whois.icann.org/ru - for international domains.
What are WHOIS records ? First of all, you need to define the word registrant, as it often appears in the data. A Domain Registrant is an individual or organization to which a domain is registered. Below is a transcript of WHOIS values ​​, only important fields are shown:
Domain name - domain name;
Registrar URL - registrar website address;
Updated Date - date when information in the database was updated;
Creation Date - domain creation date;
Registrar Registration Expiration Date - domain registration expiration date;
Registrar - registrar name;
Registrar Abuse Contact Email - contact email for problem solving;
Registrar Abuse Contact Phone - contact phone number for problem solving;
Registrant Name - domain owner;
Registrant Organization - owner's organization;
Registrant Street - registrant street;
Registrant City - the city of the registrant;
Registrant State / Province - region of the registrant;
Registrant Postal Code - registrant index;
Registrant Country - the country of the registrant;
Registrant Phone - registrant phone;
Registrant Email - Registrant email;
Name Server - DNS addresses.
Thus, using the recommendations from this article, it will not be difficult to find out the data of the site or domain owner . In some cases, obtaining the data may be difficult, but you can still contact the domain owner through the domain registrar.
Latest articles
Popular sections
Eqsash (Tools)
Amessage (Communication)
Share this
Subscribe to
YouTube
Books