How to install a chat on a website - what is it for and which one to choose
06.11.18
IT / Misc

2311
Currently, there are many communication tools available that you can use on your site. Whereas in the past, email was primarily used for communication, today's trend requires more responsive means. As a result, chat rooms have appeared for sites - they allow you to receive an answer in the shortest possible time.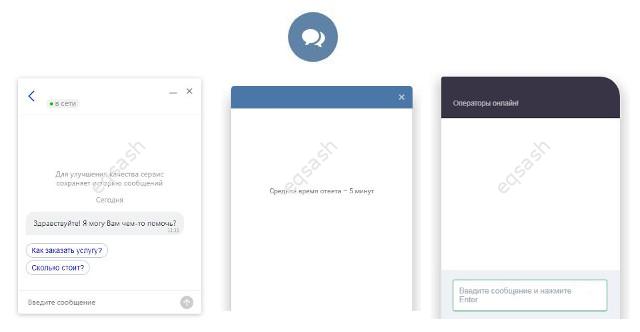 What is chat for a website
What is chat for a website and what does it look like? Usually this is a small floating button at the bottom of the screen, clicking on which opens a window, in which you can ask the site owner what you need. To embed a chat on the site, it is enough host JavaScript chat. You can use a third-party chat or write your own. Paid chats are often used, but it is better to quickly develop and install your own chat on a site that will be no worse than paid chats.
Often asked, what is the chat on the site for ? First of all, this tool is very important for sites that sell goods or provide services. It can be compared to a sales assistant in a regular store. After all, customers often need to find out more about a product or service before they decide on a deal. Chat on the site is needed to increase conversion and sales, for quick communication with potential customers. For other sites, chat will also be useful, there are a lot of ways to use it.
Which chat to choose for the site
Which chat to choose for the site among the many options? First of all, chats can be paid and free, and, as mentioned above, you can make your own chat. But most users will prefer paid chat for their site. It is worth choosing a chat for the site that is verified, and so that it is supported by various services, for example, the Yandex Dialogues service (customers can write to you in the chat directly from the search results page).
List of popular chats for the site:
JivoSite;
Talk-Me;
Verbox;
Bitrix;
LiveTex;
Threads;
Webim;
RedHelper;
LeadBack;
Envybox;
SendAPI.net;
Replain;
CleverSite;
Callibri;
Carrot quest;
Planfix;
SetlTone;
Netrox SC;
Usedesk;
Chatra.
As you can see, the list is rather big, you can choose a chat to suit any needs.
You can also post a chat from VK - it is free, you only need a VK account and a community. Well, and the most advanced option - you can order the development of a chat specifically for your site and not be limited in functionality, as well as not pay constantly for using other people's services. It is possible to manage dialogues directly from the page of your site in the admin panel or through special application (desktop or mobile).
When the choice is made, it is necessary to correctly install the chat on your site - you can do it yourself or entrust a specialist. Usually, the installation of a chat involves placing the chat code on the pages of the site. It is important to place it correctly, you may also need to configure the chat settings.
So, a chat for a site is a tool for prompt communication between a visitor and the owner of the site or his managers, it is needed to increase sales, and to induce the user to take any action. Which chat to choose for the site everyone should decide for himself, you can use the above chat rating. Installing the chat is not a complicated process, but it is better to entrust this work to a specialist - this will guarantee correct installation and configuration.
Latest articles
Popular sections
Eqsash (Инструменты)
Amessage (Communication)
Share this
Subscribe to
YouTube