Which type of hosting to choose - regular shared hosting, CMS hosting, VPS, VDS or dedicated server
02.06.20
IT / Misc

2783
When the site is developed, it remains to choose a hosting and decide on the type of hosting tariffs.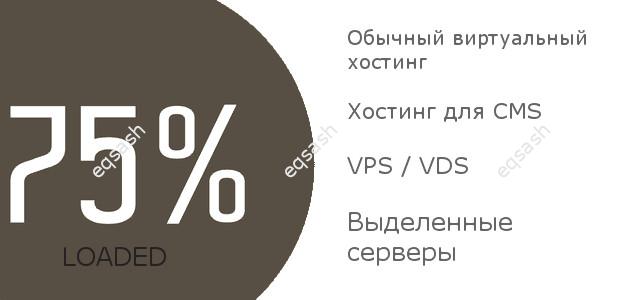 Each provider usually provides a choice of several tariffs for different directions:
- regular virtual hosting , is the placement of several sites on one server (PC). That is, your site will be hosted on the same PC with the sites of other users and all sites will use the resources of this PC. Suitable for beginners or developing projects, as well as for all other cases when special server functionality is not required;
- hosting for CMS , is essentially a regular virtual hosting, but configured for a specific CMS. As a rule, you can make such settings yourself on a regular hosting. You can choose if you are sure of the selected CMS and will not change it;
- VPS (Virtual Private Server) / VDS (Virtual Dedicated Server) , this is a virtual server rental with the possibility of self-administration. It differs from a dedicated server in that a virtual server is given on which you can set your own settings, etc. A virtual server is created by placing several servers on one PC, but some of the resources are available only to you, a separate IP address is provided, it is more secure (since no one can access the processes, etc.). Chosen after reaching a certain load on the site and to set your server settings;
- dedicated servers , a separate server (physical) is provided. Relevant for large projects that need their own software and computer settings, as well as for those who do not want to share a physical server with someone else.
It should be noted that often inexperienced users can order more expensive types of hosting than they are actually required. This may be due to one-time overloads caused by attacks, hacks, loads from virus s etc. A mistake is made here, choosing a more expensive hosting, when the resources will not be used during the main time. That is, it is necessary to solve the problem of unnecessary loads, and not to change the hosting tariff.
Usually the choice of the type of hosting plan is carried out in accordance with the analytics and statistics that the hosting shows. You can always switch to more optimal tariffs or, on the contrary, increase the tariff. But more often than not, the correct site optimization and then even with the highest loads, simple hosting will be enough for him.
Here you can recall the analogy with old PCs, because before resources were spent efficiently, now resources are not so expensive and there are a lot of them, so developers do not pay due attention to optimization and create systems that are unnecessarily demanding on resources. This is due to insufficient specialist training or to reduce development time.
Latest articles
Popular sections
Eqsash (Инструменты)
Amessage (Communication)
Share this
Subscribe to
YouTube